Scrapingbot.io is a resourceful scraping tool to extract/scrape data from URLs. Scrapingbot.io performs well on product pages to collect all users need to know for scraping like images, product titles, product prices, product descriptions, stocks, delivery costs, EAN, product categories, etc. Users can also use Scrapingbot.io to check it's ranking on Google and improve SEO. Users can run a live test on the Dashboard to assess without using any single code.
The main features of the Scrapingbot.io tool are JS rendering (Headless Chrome), High-quality proxies, Full Page HTML, Up to 20 concurrent requests, Geo-targeting, large bulk scraping needs, free basic usage monthly plan, etc.
Scrapingbot.io is such an API that lets users extract/scrape data from a targeted URL. Using Scrapingbot.io users can get the entire HTML page content on Google pages or retail sites.
Scrapingbot.io is originally developed to scrape data from retail sites and product pages. Scrapingbot.io API can also be used to scrape/extract data of Google pages for SEO ranking analysis.
Scrapingbot.io integrates the API and allows users on retail sites to collect and grab all important information or data which users need. A user can grab, extract and scrape images, product titles, prices, product descriptions, stocks, delivery costs, EAN, product categories and many more from a targeted website.
If the user does not want to integrate the API straight away, there is a live test that can be used once the user has created a free account. When you've done that, just go on Dashboard, paste the URL you want to scrape/extract data and select options (get Html, Headless Chrome). Users will be able to get the results of this API straight away. Users have 100 calls per month with the free plan, which is enough to test this amazing scraping tool.
For developers, the Scrapingbot.io API is very cool to integrate using different programming languages like Node JS, Bash, PHP, Python, and Ruby.
To scrape structured data of a specific targeted website page, go to the web page you want to scrape and copy the URL of that particular page. Then go to your Dashboard or the home page to paste your URL into the Live Test Box. Select your preferred options (full HTML, headless browser). User needs to be logged in to access this scraping feature. Now click on "Scrape Now" and get your results in a few seconds!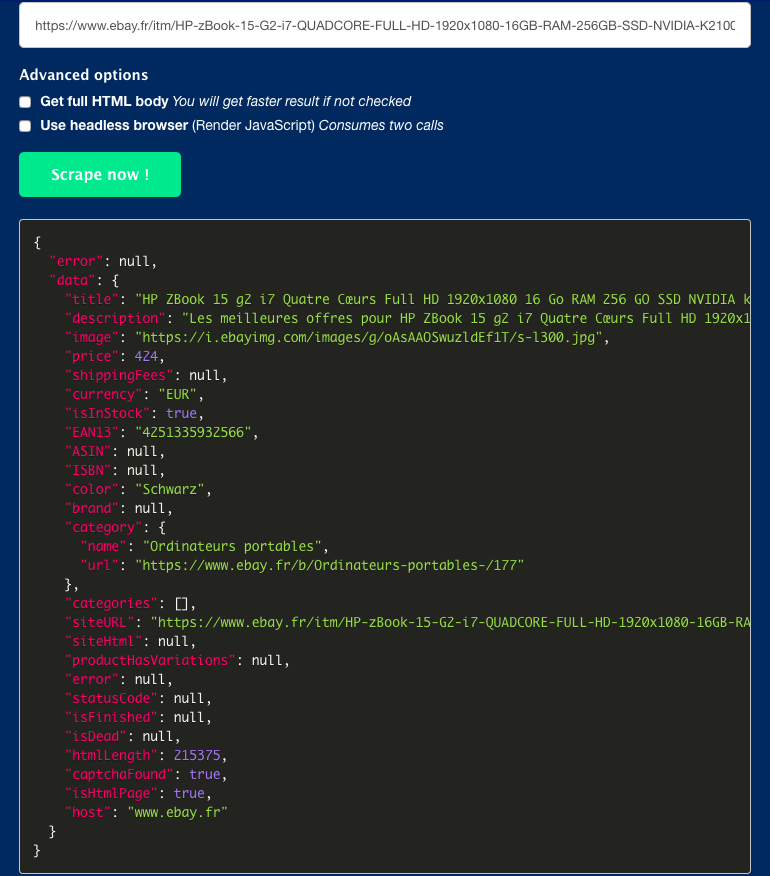 Integration is very easy and straight forward using the Scrapingbot.io API endpoint, POST method.
So the Scrapingbot.io is an API with no difficulties and can be used for both moderate and large bulk scraping. Scrapingbot.io will get the job done in-time and save a lot of time and hassle.